HERD SIRES
Quality Miniature Jack Stock
ForSale:
Check Our Availability

Check out our For Sale Page.
We have Jennies, Jacks and Yearlings Available.
HerdSires
Meet Flash!
Meet Our Newest Spotted Jack

Flash is one of our new spotted Jacks. Come Meet Flash! ....continue
Training
How Do I Do That?
They're So Cute

We believe Miniature Donkeys were bred to be, and should remain, athletic and capable animals. In our breeding program we select for donkeys with the big stride, grace, and balance that are desirable in a top performance animal. ...continue
What's New
Meet Our Jacks -
YOU WANT COLOR?

.... WE GOT

COLOR, SIZE

,

CONFORMATION

&

DISPOSITION

!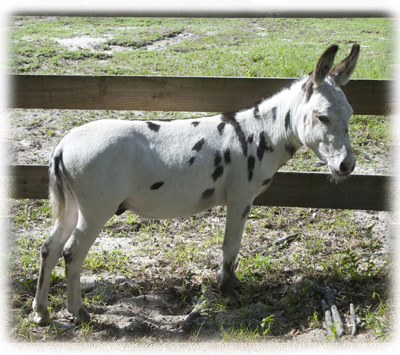 JOHNNI CASH

-
Black and White Spotted 31"
Black and White Spotted from 3 generations of spots. Welcome our newest Little Long Ear Herd Sire.
Sire: Circle S Farms Mr. Cash B/W Spotted 31" Dam: Happy Times Harley's Jingle Bells Dark Brown/White Spotted 30"
---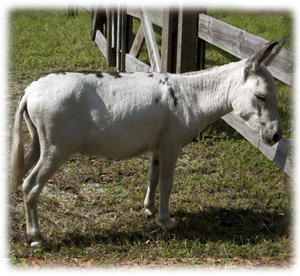 LITTLE LONG EARS FLASH

-
Spotted
Flash is a very opinionated and gorgeous black and white spotted donkey. Standing at 29 inches tall . He has excellent confirmation, a straight top line with nice straight legs and he is SMALL, SMALL, SMALL! We hope to be able to promote the size and the color of this fine young jack. He has a great friendly personality and will be used to produce our next generation of Spotted Miniature Donkeys.
Sire: MGF's Kalona McDuff 32" Spot Dam: Kekahah H 34" spot
---





INK FOX

-
Tri-Color Spotted 34"
Don't let his size fool you! This nice tri-color spotted will produce some of the nicest confirmation you are looking for. Breed for color, conformation and disposition.
Sire: Black Ink Black 32" Dam: Snazzy Grey/White 33"
AT STUD UNTIL SOLD - CONTACT FOR MORE INFORMATION
---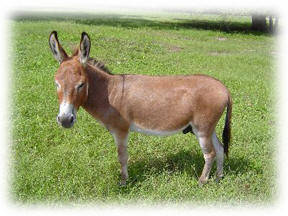 LAWZYDAY FARM'S SUNRISE

- Sorrel

Sunrise is a 31.25 inch Sorrel. He has excellent confirmation and a great friendly disposition. Producing mostly Sorrell in our selective breeding program. If you want to see red, Sunrise can produce it!
Sire: Lawzyday Farm's Sugar Daddy - Dark Red Dam: Lawzyday Farm's Peach Blossom - Red
---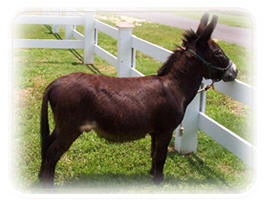 WRAY'S BO JACKSON'S BLACK OUT

-
Black
Black-Out is a black jack. He is a 31" jack with excellent conformation and a gentle disposition. Black-Out comes from outstanding color-producing lineage. and will produce Black for you as well! Come see Black Out and Say Hi!
Sire: PMF's Bo Jackson - Black 3 Star Dam: Bonnie's Peanut - Dark Brown 3 Star
---
---
Check Out Our Spotted Donkeys
Conformation, Color, Disposition
What more could a Top Breeder want?... CLICK HERE