Welcome To Our Farm
Quality Bred Miniature Donkeys
ForSale:
Check Our Availability

Check out our For Sale Page.
We have Jennies, Jacks and Yearlings Available.
HerdSires
Meet Flash!
Meet Our Newest Spotted Jack

Flash is one of our new spotted Jacks. Come Meet Flash! ....continue
Training
How Do I Do That?
They're So Cute

We believe Miniature Donkeys were bred to be, and should remain, athletic and capable animals. In our breeding program we select for donkeys with the big stride, grace, and balance that are desirable in a top performance animal. ...continue
Welcome to Little Long Ears Farm

We have several donkeys that are not listed below.... If you don't see what you are looking for, please give us a call.
Breeding Better Quality Miniature Donkeys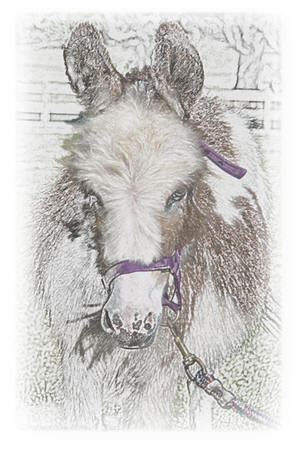 Specializing in Quality Bred Miniature Donkeys


Excellent Conformation in a Small Package


Fabulous Temperaments for Pets, Show or Breeding


Gorgeous Variety of Colors including Spots


Largest Selection in Central Florida


We Ship Worldwide


Conveniently located 20 minutes NW of Orlando, Florida:
between Apopka and Mount Dora off US 441.






The Perfect Pet
From the time this little long ear baby is born, they are constantly seeking attention and wanting to give you love. Affectionate, soft, cuddly, adorable bundles of fur.
Miniature Donkeys are easily trained to do tricks, pull carts, and with smaller children, ride. They are quite social little companions. They love their herd mates as well as their owner. We recommend that they go in pairs just for that reason.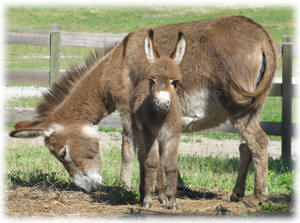 Miniature Donkeys
Know What You Are Looking For....
Imagine a miniature donkey, with the characteristics of a loving, playful puppy, coupled with the ability to pull a cart or let children ride around on its back. Better yet, what if this hardy pet could live on just a handful of feed and survive up to 35 years or more, meaning that your children and your grandchildren might enjoy its company? With all of these admirable traits, it's no wonder that miniature donkeys are steadily gaining popularity. ... more information
Miniature Donkey Facts
General Information
Life Span: 25 - 35+ years
Weight: 200 - 350 pounds at maturity
Height: Average 32" - 34" at the withers, maximum 36" Gestation: 11-1/2 - 13 months
Birth: Single baby, averages 20-30 pounds at birth. Foals are up and nursing within 30 minutes and are weaned between 5-6 months of age.
Reproduction: Male donkeys are referred to as "jacks," female donkeys are "jennets," and baby donkeys are called "foals". Jennets should not be bred until they are physically mature at approximately 3 years of age. They have heat cycles every 18-21 days throughout most of the year.
Health: Miniature Donkeys are remarkably hardy and healthy. They do require preventative vaccinations, should be wormed regularly, and have their hooves trimmed every 2-3 months.
Colors: Miniature Donkeys are predominantly grey-dun with the characteristic "cross." They also come in darker shades of grey, brown, black, sorrel, white and spotted. Usually they have light tan markings around their muzzle and eyes, known as "points". However, some have dark points.