Miniature Donkeys For Sale
Donkeys For Sale
ForSale:
Check Our Availability

Check out our For Sale Page.
We have Jennies, Jacks and Yearlings Available.
HerdSires
Meet Flash!
Meet Our Newest Spotted Jack

Flash is one of our new spotted Jacks. Come Meet Flash! ....continue
Training
How Do I Do That?
They're So Cute

We believe Miniature Donkeys were bred to be, and should remain, athletic and capable animals. In our breeding program we select for donkeys with the big stride, grace, and balance that are desirable in a top performance animal. ...continue
Donkeys For Sale
We have jacks starting at $ 400.00 and Jennets starting at $ 600.00. Pregnant Jennets starting at 1,450.00.
Packages are available. Price reduction for the purchase of two or more. CALL FOR AVAILABILITY.
---
SORRELL JENNETS FOR SALE
---

TWIN CREEKS GEORGIA GIRL

10/22/2005




ROAN SORREL WITH A GREAT DISPOSITION

SIRE: TEXAS RANGER
DAM: HOLLY OAKS SWEET GEORGIA BROWN

*BRED TO MY WORLD TIGGER

VICTORY ACRES ERIN

-

07/05/2002




SIRE: VICTORY ACRES CAMERON
DAM: WINDCREST KATRINA

Bred to My World Tigger. Her last foal was a beautiful small pink sorrell.
---
SORRELL JACKS FOR SALE
---

LLEF EMILIO -

04/08/2010




SMALL, RED JACK

SIRE: LAWZYDAY FARM SUNRISE
DAM: LADY IN RED GRANDSIRE: MY WORLD TIGGER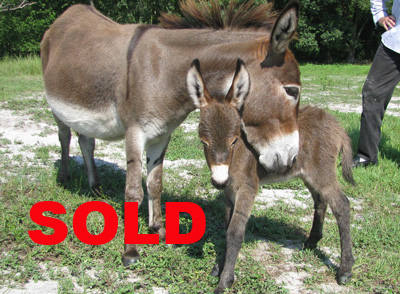 JACK DARK SORREL
20.5" at birth
Sire: My World Tigger
Dam: Gardners Randi Lee
---
BLACK JACKS FOR SALE
---

BLACK BART -

05/12/2011




22" AT BIRTH

SIRE: WRAY'S BO JACKSON'S BLACK OUT
DAM: MIDNIGHT RAVEN
---
SPOTTED JACKS FOR SALE
---
GARDNERS FLASH

– 30 INCHES 9/8/2008




BLACK AND WHITE

SIRE: MGF KALONA MCDUFF
DAM: GARDMERS KEKAHA H.
INK FOX (Jack)
SOLD
Looking to produce spots? Here he is.
Sire: Black Ink. Dam Snazzy. 34 1/2 . One of our sweetest donkeys on the farm. He will follow you around like a puppy. An incredible tri color spot. He is well proportioned with great markings.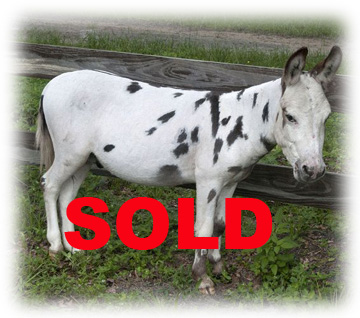 HAPPY TIMES JOHNNI CASH
– 30.5 INCHES 7/9/2008
Sire: Circle S Mr. Cash, Black and White spot.
Dam Happy Times Harleys Jingle Bells, Brown and White spot.

View Large Image
JACK - SPOT




20" at birth

Sire: Happy Times Johnni Cash
Dam: Sutherlins Voo Dotty

---

SPOTTED JENNETS FOR SALE

---


GARDNERS VERALICIA MAE 6/3/2008
SIRE: HEIKENS ARK NORRIS
DAM: GARDNERS NICOLE H
A BEAUTIFUL BLACK AND WHITE SPOTTED JENNY BRED TO A BLACK AND WHITE.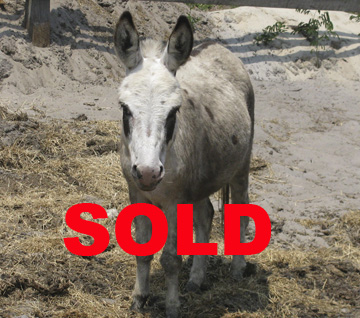 GARDNERS SAUNDRA MAE
DOB: 8/14/2008, Black and White Spot.
Sire Heiken's Ark Kennedy.
Dam: Gardner's Jamina B.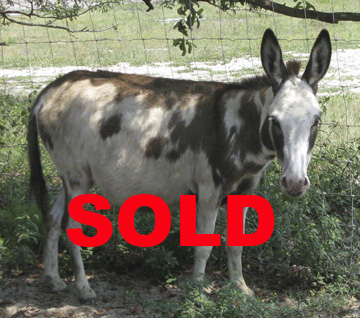 SUTHERLINS LITTLE VOO DOTTY
DOB: 4/27/2008
Sire Fisher's Painted Voodoo
Dam: Little Spott Nose.


---
GREY JENNETS FOR SALE
---
---
Package deals available - Give us a call or click here to email!
---