Welcome!

Located in Central Florida, Little Long Ears Farm produces the best quality miniature donkeys. We take pride in the conformation, color and size of our miniature donkeys.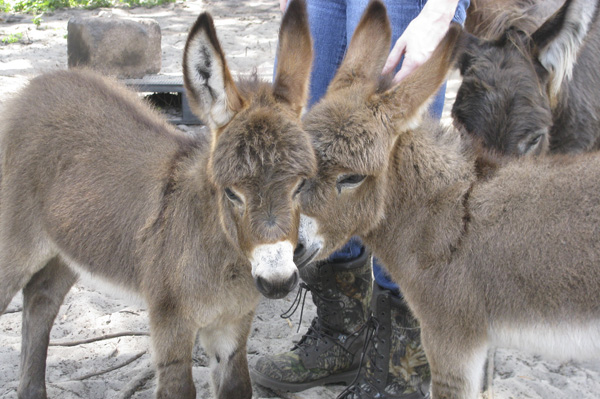 Miniature Donkey Facts:
General Information:
Life Span: 25 - 35+ years
Weight: 200 - 350 pounds at maturity
Height: Average 32" - 34" at the withers, maximum 36"
Gestation: 11-1/2 - 13 months
Birth: Single baby, averages 20-30 pounds at birth. Foals are up and nursing within 30 minutes and are weaned between 5-6 months of age.
Reproduction: Male donkeys are referred to as "jacks," female donkeys are "jennets," and baby donkeys are called "foals". Jennets should not be bred until they are physically mature at approximately 3 years of age. They have heat cycles every 18-21 days throughout most of the year.
Health: Miniature Donkeys are remarkably hardy and healthy. They do require preventative vaccinations, should be wormed regularly, and have their hooves trimmed every 2-3 months.
Colors: Miniature Donkeys are predominantly grey-dun with the characteristic "cross." They also come in darker shades of grey, brown, black, sorrel, white and spotted. Usually they have light tan markings around their muzzle and eyes, known as "points". However, some have dark points.
Contact Us:
Janet Gibb
407.358.9697
3405 Round Lake Road, Zellwood, Florida 32798
Hours of Operation:
9am-5pm Monday through Saturday
Call to make special arrangements on Sunday
Visitors welcome - Give us a call to make an appointment